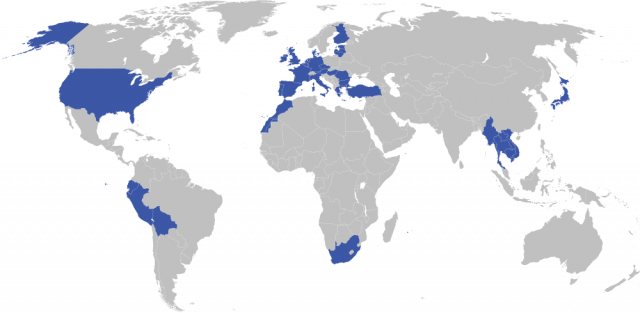 Places i've been, ordered by year and country. Sights in bold are recommended. When i slept in an especially nice accommodation it is added next to the city's name between brackets.
2021
Germany


Bad Harzburg: Baumwipfelpad Harz
Bad Karlshafen: Tierpark Sababurg, Urwald Sababurg
Berlin: Hamburger Bahnhof, Alte Nationalgalerie, Gemäldegalerie, Jagdschloss Grunewald, Humboldtforum, Tempelhof, Botschaft der Tsechischen Republik, Brücke-Museum
Braunschweig: Herzog Anton Ulrich-Museum, Städtisches Museum, Magnikirche
Dessau: Bauhausgebäude, Bauhaus Museum, Meisterhäuser, Georgiumpark, Wörlitzer Park
Dresden: Gemäldegalerie Alte Meister, Schloss Moritzburg, Albertinum, Militär Historisch Museum, Basteigebiet (Rathen), Ferropolis
Goslar: Rammelsberg museum
Leipzig: Grassi Museum für Angewandte Kunst, Museum der bildenden Künste, Panometer (Carolas Garten – Yadegar Asisi), Völkerschlachtdenkmal, Zeitgeschichtliches Forum Leipzig
Lutherstadt Wittenberg: Lutherhaus
Magdeburg: Museum für Naturkunde
Münster: LWL-Museum für Naturkunde, Botanischer Garten, LWL-Museum für Kunst und Kultur
Neuendorf am See
Oschersleben
Potsdam: Bildergalerie Sanssouci, Park Sanssouci
Soest: Museum Wilhelm Morgner
2020
Yeah, that was fun.
Germany

Köln: Dom, Museum Ludwig, Wallraf-Richartz, Kolumba, MAKK, Rautenstrauch-Joest-Museum, Museum für Ostasiatische Kunst
Neuss: Museum Insel Hombroich
2019
Bolivia (continued from 2018)

Copacobana
Isla del Sol
La Paz: conchita wrestling, teleferico, Museo Nacional de Etnografía y Folklore, Tiwanaku
Potosí: The National Mint
Samaipata: El Fuerte, Amboro National Park, Jacha Inti Refugio
Sucre: Cal Orcko, Castello La Glorieta, Museo de Arte Indígena ASUR
Tupiza
Uyuni: Salar de Uyuni

Ecuador

Galapagos: Puerto Ayora (Santa Cruz), Isabella
Otovalu: Saturday market
Quilotoa
Quito: Museo Guayasamin & Capilla del Hombre, Museo Casa del Alabado, National Museum, Pichincha Vulcano

France

Fuilla (La Casa Majou)
Mont-Louis
Perpignan

Peru

Arequipa: Colca Canyon
Chincero: Sunday market
Cusco: Machu Picchu, Qoricancha, Machu Picchu Museum, Museo Inka, Sacsayhuamán, Pisaq, Ollantaytambo
Lima: Astrid y Gaston, Museo Larco
Paracas: Islas Ballistas

Spain

La Mamola
Malagá
Motril
Polopos

Spain (2)

Barcelona

Museu Nacional d'Art de Catalunya (MNAC)
Mies van der Rohe Pavillion
CaixoForum

Bilbao

Guggenheim Bilbabo
Museo de Bellas Artes

Borja

Bardenas Reales
Santuario de Misericordia (Ecce Homo)

Burgos
 Empúries

Museu d'Arqueologia de Catalunya – Empúries

Figueres
Huesca
La Seu d'Urgell
Lascuarre
Montañana
Montserrat
Olot
Ripoll

Monestir de Santa Maria de Ripoll

Roses
San Sebastian
Terrassa

Museu de la Ciència i de la Tècnica de Catalunya

Vic
Zaragoza

Basílica de Nuestra Señora del Pilar
Teatro Romano
2018
Belgium

Brussels

Art & History Museum
Royal Museums of Fine Art
vrt
MONK

Bolivia

Samaipata
Santa Cruz: Santa Cruz Zoo

Greece

Amifissa (make sure you have a proper car)
Antykira
Arachova (Nefeles)
Delphi

Archaeological Museum
Apollo Sanctuary
Marmaria / Tholos

Edessa

Arcturos Brown Bear Sanctuary (Nymfaio)
Waterfalls

Galaxadi
Ioannina (Gousias Guesthouse)

Archeological Museum
Byzantine Museum
Fethiye Mosque / Ali Pasha Mosque
Ioannina Island (Monastery of St. Nicholas Filanthropinon or Spanos)
Oracle of Dodona

Kalambaka

Meteora monasteries (Varlaam, St. Stephen, Holy Trinity, Rousanou)
Natural History Museum of Meteora and Mushroom Museum
Digital Projection Centre of Meteora's History and Culture

Kastoria

Byzantine Museum
Folklore Museum
Panagia Mavriotissa Monastery

Lake Prespa

Agios Achillios
Mikrolimnia

Lamia
Metsovo

Monastery of Agiou Nikolaou

Portaria (Archontiko Kantartzi)
Thessaloniki

Archaeological Museum
Arch of Galerius
Cinema Museum
Church of Agios Dimitrios
Jewish Museum
Museum of Byzantine Culture
Museum of Photography
Rotunda of Galerius

Vergina

Archaeological Site of Aigai

Volos

Athanasakeion Archaeological Museum
Museum of the City of Volos
The Rooftile and Brickworks Museum N. & S. Tsalapatas

Zagorohoria

Monodendri
Vikos Gorge
Vikos (Folk Museum)

Italy

Herculaneum
Naples (Barbara's): National Archaeological Museum
Pompeii

Spain (1)

Barcelona: Wikimedia Hackathon 2018, Sagrada Familia, Museu Nacional d'Art de Catalunya, Park Guëll

Spain (2)

Madrid: Prado, Madrid Archeological Museum, Museo Thyssen-Bornemisza, Caixaforum
Toledo

United States (continued from 2017)

Kanab, Utah: Zion National Park
Las Vegas, Nevada: Neon Museum, Penn & Teller
Page, Arizona: Grand Staircase-Escalante National Monument, Kodachrome Basin State Park, Lower Antelope Canyon, Glen Canyon / Lake Powell
St. George, Utah: Snow Canyon State Park, Anasazi Petroglyphs
2017
Denmark

Aarhus (Vibes B&B): City Hall, ARoS Kunstmuseum, Moesgaard Museum
Copenhagen: City Hall, Botanical Garden, Statens Museum for Kunst, Tivoli, Assistens Cemetery, Superkilen Park, Ny Carlsberg Glyptotek
Ribe: Domkirke
Tønder

Germany

Bergen-Belsen Memorial
Bremen: Deutsches Auswandererhaus, Kirche Unser Lieben Frauen, Böttcherstraße
Essen: Museum Insel Hombroich, Museum Folkwang, Zeche Zollverein Coal Mine
Friedrichstadt
Kassel (Ryszard's Atelier-Haus): documenta 14, Herkules, Urwald Sababurg
Rendsburg: NordArt

Italy (1): Rome: Forum Romanum, Colosseum, Domus Aurea, EUR, Vatican Museums, Ostia Antica, Via Appia Antica, Palazzo Massimo.
Italy (2): Venice: La Biennale di Venezia, Gallerie dell'Accademia.
United States (1): Austin, Texas.
United States (2):

Albuquerque, New Mexico: Petroglyph National Monument
Bryce Canyon National Park
Durango, Colorado: Mesa Verde National Park
Flagstaff, Arizona
Gallup, Arizona
Holbrook, Arizona: Petrified Forest National Park
Las Vegas, Nevada: Excalibur Buffet (2x), Kà (Cirque du Soleil)
Mexican Hut, Utah: Goosenecks State Park, Valley of the Gods
Moab, Utah: Canyonlands National Park, Arches National Park, Dead Horse Point State Park
Monument Valley, Utah
Santa Fe, New Mexico (Silver Saddle): Georgia O'Keeffe Museum, Museum of International Folk Art, Meow Wolf House of Eternal Return
Taos, Arizona: Earthships, Rio Grande Gorge Bridge, San Francisco de Asis Mission Church, Taos Pueblo
Torrey, Utah: Capitol Reef National Park
Williams, Arizona: Grand Canyon South Rim
Winslow, Arizona: La Posada Hotel
2016
Belgium: Antwerp
Myanmar (Burma)

Mandalay: Mandalay Hill, Mahamuni Paya, Pyin Oo Lwin, Kandawgyi Gardens, U-Bein Bridge, Inwa
Bagan: Old & New Bagan, Nyaung U, Ananda Pahto ,Dhammayangyi Pahto, Shwesandaw Paya
Inle Lake: Nyaung Shwe, Inthein
Yangon: Shwedagon Pagoda, Botataung Paya, People's Park, Chinatown, Chauktatgyi Paya, Meilamu Paya, Sule Paya, Kandawgyi Lake

South Africa: Cape Town, Franschhoek, Stellenbosch, Cape Peninsula
Spain: Almería, Polopos (La Primera Sonrisa), La Mamola, Nerja, Frigiliana, El Ejido, Órgiva, Alcútar (Luz Y Paz), Cádiar
Thailand: Bangkok
2015
Belgium: Antwerp
Ireland: Dublin, Limerick, Dingle, Kilarney
Japan: Tokyo, Osaka, Kyoto, Nagasaki, Hiroshima, Koyasan, Kobe, Beppu, Nara, Himeij, Okayama, Miyajima
Turkey: Istanbul
2014
Belgium: Vielsalm, Trois-Ponts
Estonia: Tallinn, Tartu, Lahemaa National Park (Käsmu, Palmse, Vösu, Viinistu, Sagadi, Virve)
Finland: Helsinki
Germany: Berlin
Latvia: Riga
Lithuania: Vilnius, Trakai, Curonian Spit (Juodkrante, Klaipėda)
Spain: Madrid (Prado Museum, Reina Sofia, National Archeological Museum, Thyssen-Bornemisza Museum, Mercado de San Antón, Bazaar Restaurant, Ribeira do Mino)
2013
Bulgaria: Sofia, Plovdiv
Cambodia: Phnom Penh, Battambong, Kampot, Siem Reap / Angkor, Kratie, Kep
France: Paris
Ireland: Dublin, Howth, Galway, Clifden, Aran islands (Inishmor), Doolin
Laos: 4000 islands (Don Det, Don Khnon), Pakse, Vientiane, Vang Vieng, Luang Prabang
Turkey: Istanbul
United Kingdom: London
Vietnam: Hanoi, Ha Long Bay
2012
Germany: Berlin
Portugal: Lissabon
Spain: Ronda, Sevilla, Granada, Torremolinos, Córdoba
United Kingdom: Manchester, Liverpool, Edinburgh, Scarborough, Whitby, York, Balloch, Hexham, Kendal
United States of America: Austin, New York City
2011
Belgium: Trois-Ponts, Remouchamps
Germany: Berlin, Trier
2010
Marocco: Marrakech, Rabat, Fez, Meknez, Chefchaouen
2009
France: Le Bois de Caux (Rouen)
Italy: Rome
United Kingdom: London
2008
Austria: Vienna
Germany: Wolfsburg
Romania: Bucarest, Sibiu, Brasov, Sighisoara, Cisnadie
2007
France: La Cambe (Bayeux)
Italy: Venice, Bologna, Modena, Ravenna
Luxembourg: Luxembourg City
2006
2005
2004
2003
Czech Republic: Prague, Jičín
2002
Just the countries
Austria
Belgium
Bolivia
Bulgaria
Cambodia
Czech Republic
Denmark
Ecuador
Estonia
Finland
France
Germany
Greece
Hungary
Ireland
Italy
Japan
Laos
Latvia
Lithuania
Luxembourg
Marocco
Myanmar
Netherlands
Peru
Portugal
Romania
South Africa
Spain
Thailand
Turkey
United Kingdom
United States of America
Vietnam