Blog archives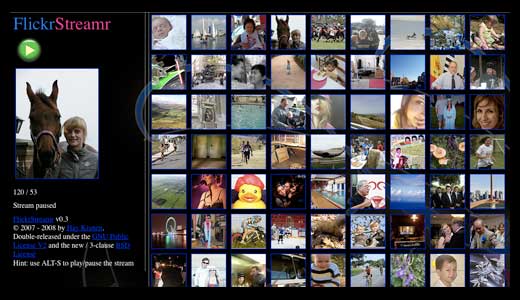 I've uploaded the newest version of FlickrStreamr. FlickrStreamr is a tool to view a continuously updating stream of all recently uploaded photographs from Flickr. On a normal day, around 3000-6000 photos are uploaded to Flickr every minute. This tool lets you view those photographs in a way that is a little bit more sophisticated than hitting 'reload' on the recent photographs page on Flickr.
I've done a lot of work on making this new version more easier to use, with a less cluttered interface. There's just one button right now: play/pause. Hit it, and watch the photographs refresh, hover over a photograph to view a preview or click it to go to the photo page on Flickr.com
I've added some JavaScript that adjusts the number of thumbnails on your screen. The larger your screen resolution, the more thumbnails you will see. So, you don't need to scroll the FlickrStreamr page to view more thumbnails. When all thumbnails are updated, the new thumbnails simply update again at the top-left corner.
You can try FlickrStreamr or download the source code and run it for yourself (you'll need a Flickr API key though).
Add a comment
2 comments
[…] A new version of FlickrStreamr is available: 0.3 […]

Beste Hay,

Wil het ook op mijn site plaatsen; Heb API-key ingevuld etc. maar hij doet het niet; Blijft allemaal lege Flicr-logos tonen en geeft "loading images…" (rest vd pagina is OK). Voordat ik in de code duik en ga debuggen: enig idee wat er aan de hand kan zijn?