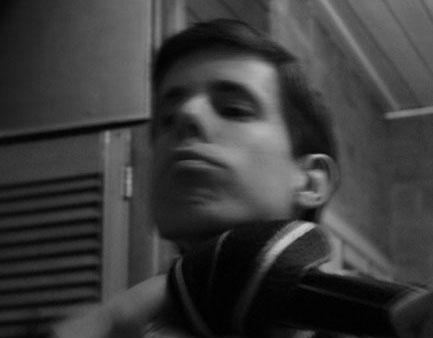 Oliver G.'s farewell
An experiment in digital storytelling.
View this work
Between 2011 and 2013 I was co-editor of 365dagenkunst.nl. A site where artists exhibited their work on a daily basis. I did that together with a collective of about 90 creative people. The works were very different in nature: paintings, drawings, music, videos. Every Thursday I made my own artwork for the site. That was a challenge, but the deadline allowed me to experiment a lot with different techniques and styles.
One of my works was "Oliver G.'s farewell" (Het Afscheid van Oliver G.). I made this work on a Wednesday evening when I didn't really have time and a good friend came over for dinner. I decided to record my friend's farewell. I photographed him while drinking his coffee and putting on his jacket and walking to the bus stop. I combined those photos in a slideshow with my own music composition.
Even though it was a quick work, playing for just one minute, it has always stayed with me. Perhaps because of the feeling of nostalgia and wistfulness it evokes. And because it's very simple, a friend who joins you for dinner and then takes the bus home. Something you rarely record as if it were important.