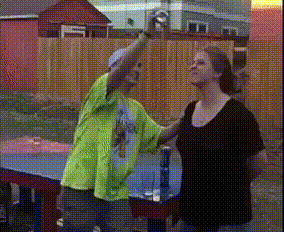 Dit gifje laat zien wat er is gebeurd in het Verenigd Koninkrijk. Je bent van plan iets te doen. Je ouders zeggen "Dat is onverstandig!". Maar het is ook leuk om lekker tegen je ouders in te gaan. Dan doe je het, en dan opeens realiseer je je (dit is het moment dat het blikje het gezicht van het meisje raakt): hoe hadden we zo dom kunnen zijn? En dan heb je spijt, en moet je huilen.
Volgens mij is het deel van een trend. Weg van de feiten, vertrouw vooral op je gevoel. Weg met de experts.
Een voorbeeld: afgelopen zaterdag stond in de Volkskrant een stuk over ouders die hun kinderen, tegen beter weten in, niet laten vaccineren.
Het is hetzelfde patroon: mensen hebben het gevoel dat ze geen controle hebben over hun leven. Dus doen ze iets waar ze wél controle over hebben: tégen de bestaande conventies, instituten en wijsheid. Een poging terug te keren naar een tijd waarin we zalig leefden van het land, er biggetjes in huis rondscharrelden, en we genoeg hadden aan liefde en gevoel. Dat je waarschijnlijk voor je 40-ste stierf aan de pokken of aan cholera is dan wat minder belangrijk.
Proberen er tegenin te gaan met wetenschappelijk onderbouwde feiten heeft geen zin: mensen gaan dan juist meer in hun eigen ideeën geloven.
Nog zoiets. Ik moest laatst weten of tempeh glutenvrij is (ja). Maar behalve die informatie vond ik ook een alternatieve wereld waarin mensen beweren dat soja ongezond is. Want 'er zitten stoffen in die de schildklier ontregelen (…) mijn inziens troep'. Maar anderen zijn het daar niet mee eens, want er zijn ergere dingen: 'rare westerse producten als aspartaam'.
Het gaat niet om de vraag of dingen wel of niet gezond zijn, het gaat erom of dingen wel of niet gezond voelen.
Je hoeft niet lang te zoeken om overeenkomsten te zien met de fans van Donald Trump. In the face of all the evidence blijven mensen Trump steunen, ook al liegt hij dat hij barst, en kan hij z'n idiote uitspraken niet onderbouwen.
Van zijn meest significante en nieuwswaardige uitspraken is 77% grotendeels onwaar, compleet onwaar, of volkomen slap gelul (ter vergelijking: Clinton zit op 27%, Sanders op 29%). Trump zegt dat Clinton van plan is om alle criminelen vrij te laten (gelul), dat er duizenden mensen in New Jersey aan het juichen waren op 9/11 (gelul), en dat 81% van de moorden op blanken door zwarten zijn veroorzaakt (gelul).
Maakt dat zijn aanhangers iets uit? Nee, natuurlijk niet.
Dat is ook het deprimerende. Het voelt vast lekker om op Trump te stemmen. Voor 'leave the EU'. Of iedereen te vertellen dat sojabonen kanker veroorzaken en inentingen autisme.
Maar op een ochtend word je wakker en blijkt dat je geen lid meer bent van de EU en dat je er economisch net zo slecht voorstaat als tijdens de crisis. Dat Donald Trump de leider is van de westerse wereld en op zijn golfbaan aankondigt dat moslims het land niet meer in mogen. En dat kinderen zonder inentingen toch echt ziek kunnen worden en kunnen overlijden.
Natuurlijk, de huidige onvrede heeft diepe en complexe oorzaken. Mensen zijn teleurgesteld in loze beloftes van politici en voelen zich vernederd. Ik realiseer me terdege dat ik deel uitmaak van een hoogopgeleide elite die makkelijk praten heeft.
En ik zou willen dat het antwoord op dit alles "meer kattengifjes" is (sorry).
We moeten ons minder door ons gevoel laten leidden. Maar we moeten niet gevoelloos worden. Ja, we moeten lief zijn voor elkaar.